Republic Shipping Consolidators, Inc.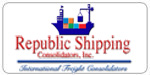 Since 1983, Republic Shipping Consolidators, RRSH GROUP, INC. has been providing shipping and freight consolidation services to hundreds of companies and people in the Caribbean, Central and South America.
We have helped them with their export and import needs; and we have become one of the most experienced company in this industry. We count with many professionally trained associates and our warehouses are conveniently located near the Miami International Airport and cargo terminals. We assure you the best service integrity, convenient on-time reliability and consistent performance.
Our implemented Client relationship and tracking interface will give you complete pro-active information. We have worked diligently to establish and maintain trusted relationships with our overseas agents, ensuring you receive the kind of professional service necessary. Efficiency, accuracy, reliability and dependability have become the foundation upon which we have built our success.
We have prepared many tailored freight layouts that will fit your transportation needs and take care of your cargo delivery safely and on time! We are the complete transportation solution that saves you time and money by delivering your cargo with speed, reliability and total security. Read more
Republic Shipping Consolidators has over 25 years of experience in the field as a full-service Air Freight Forwarders , we offer air cargo service and Door-to-Door; from air-express to charter service . Our range of Air Services is designed to meet your specific needs and cost requirements. We are an authorized IATA Air Freight Forwarders for your peace of mind. Our knowledge and strong partner relationships allow us to offer customers reliable, flexible, and cost-effective air-freight shipping solutions, whether your needs are for domestic or international air cargo transport services
To see our members, click here